Tesni Evans became the first Welsh player to win the ladies event this year beating Alison Waters 3-0 in the final yesterday.   Nick Matthews won his TENTH National title in his last tournament before retirement.
There was varied success for our Herts players this year in National Championships.  Grace Gear, currently ranked 113 in the World, made it to the Qualifying Finals of the main event losing to Jasmine Hutton 3-1 and unfortunately picking up an injury in the third game.  Well done to Grace though and looking forward to seeing her go from strength to strength this year.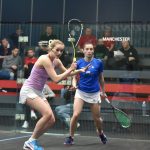 In the Masters events, Keith Timms had a great run to get to the semi finals of O35 event before losing to the No.1 seed Andy Whipp 3-0 although the scoreline does not reflect how well Keith played!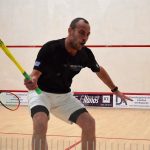 Eamonn Price unfortunately lost 3-2 against Simon Spencer in the second round of the O50 event having come back from two games down.   In the O55 event Gary Raw had a fantastic run in the tournament eventually losing to the No.1 seed Mark Woodliffe in the quarter final but not before taking a game off him, well done!
Louisa Dalwood, although not feeling 100% well, got to the semi finals of the O40 event after a tough 3-2 win in the first round but lost 3-0 to No.1 seed Keely Johnson.  Sheila Blake got through to the quarter finals of O50 but came up against No.1 seed Rachel Woolford.  Sheila had a great start taking the fist game but couldn't keep the momentum going, losing 3-1.   Isobel Smith also lost in the quarter finals of O50 losing to No.2 seed Kay Fallows.  After a dire first two games, Isobel managed to get the third game but had left it to late to get the match back, losing 3-1.
Great to see Hertfordshire being represented so well in all events and age groups.