Mens 1st Team Region 3 Stage 1 - 5th November 2016
Nom
Hertfordshire
Nom
Oxfordshire
Result
Games
1-1
Adrian Waller
1-1
Wil John
3
0
11/7 11/5 11/5
1-3
Nick Mulvey
1-3
Ashely Bowling
3
0
11/3 11/7 11/6
1-5
Keith Timms
1-4
Ben Hedger
3
0
12/10 11/5 11/8
1-6
Phil Waller
1-5
JASON VARRIE
3
1
10/12 11/5 11/4 11/9
1-7
Geoff Taylor
1-6
JIMMY CETKOVSKI
0
3
11/13 9/11 7/11
View Full Details
Result:
17
4
Nom
Hertfordshire
Nom
Suffolk
Result
Games
1-1
Adrian Waller
1-1
Cameron Haddow
3
0
11/3 11/3 11/4
1-2
Joe Green
1-2
Nick Ramsey
3
0
11/5 11/7 11/8
1-5
Keith Timms
1-3
Billy Beecroft
3
1
9/11 11/3 11/3 11/2
1-6
Phil Waller
1-4
Steve Maitland
3
0
11/6 11/5 11/7
1-8
Neil Waller
1-5
Tom Ison
3
0
11/5 11/5 11/9
View Full Details
Result:
20
1
ICC O35 Stage 2 - 14th January 2017
'So near, yet so far-again!' The Stage 2 ICC took place at Bishops Stortford as once again Hertfordshire were the host County, with the Men's 035 team hoping for a place in the Finals weekend in Pontefract. Another encounter with Surrey and another loss, though this time a fairly convincing one, meant we fell at the first hurdle!
Good news at the outset: Stacey Ross is in NY, bad news: we lose our #4 Simon Evans through injury the Thursday beforehand. Never-the-less the usual combatants are at hand and with newly signed 'youngster' Keith Timms at #1 I feel optimistic. However, its short lived, very short lived in fact, as we lose at 5, and 3 and then 4 in quick succession, and have effectively lost before Ali at #2 and the greyhound at #1 really get going!
The quality of the Surrey lower order has caught us out and we really struggle. Newcomer Oli Latham at #5 looks promising and plays very well in patches winning a tight second game, though ultimately too many errors and first time nerves get the better of him, and he loses 4-1. However, he is young, DOB in the 80's-which is a novelty-and will be a strong addition to the team in years to come.
James Clyne at #4, as the late replacement for Simon, starts well albeit losing a tight opening game 10-12. However, the next two games are one-way traffic. We aren't sure what was said to the Surrey player after the opener, but he didn't make a mistake in the 2nd and 3rd and quicker than a cross-court kill from a return of serve, we are 2 nil down.
Meanwhile, both Geoff at #3 and Ali at #2 start off well and quickly go one-up. However, this renaissance is short lived and from then on they both struggle to read their opponents game, and a number of loose shots and uncharacteristic errors mean they are both dispatched rather limply 3-1! (no offence lads!)
We are now 17-3 down and it's looking pretty dire! Undeterred, Keith takes to the court and puts on a gritty and determined display against a slightly 'larger' and rather 'shabbier' looking Neil Frankland, and a sole victory suddenly becomes a possibility. Alas, the Surrey #1 may look like a washed up father Christmas but he still has the shots, and his almost telepathic reading of the game means the Herts man struggles to exert his superior fitness and movement. Ultimately, Keith loses in five, though I have no doubt the outcome would have been different if it weren't a dead rubber. Result: Herts 0 v Surrey 5 (5-20). So, barring a miracle our challenge has been thwarted.
Next match up, Surrey v Kent. Having spoken to the Kent Captain beforehand we agree that second place is probably the best either County can hope for. However, the Surrey #2 can't play this match and so their team moves up the order, and they bring in a new #5. Will this have a negative impact? It's not evident from the outset as the new Surrey man 'bagels' his opponent in the first, and goes on to win 3-0 in about 9 mins! 1 nil Surrey.
However, complacency is a funny thing, whether they knew Herts were the bigger threat, and having beaten us so convincingly took their foot of the gas, who knows, but the middle order now start to struggle, and what appeared at the outset to be a 'foregone' conclusion now becomes a bit of an arm wrestle.
On court 1 the 'Surrey Santa Claus' starts off at a pace and wins the opening game 11-1. However, the Kent 3 and 4 are making it hard work for a Surrey team who look in disarray. 1-0, 1-1, 1-2, 2-2, its nail biting stuff!! J Meanwhile, back on court 1, Neil's constant dialogue and witty banter is taking its toll on the Kent #1 who eventually succumbs 3-1. 2 nil Surrey.
Kent then take the 3rd string in 5 tight games, as does the #3, so it's now 2-2. I can hardly contain myself, Is everyone keeping up? The Kent #2 loses a tight third game to go 2-1 down and the 'writing is on the wall'. Or is it…. The Surrey player then experiences what can only be described in squash terms as an 'absolute shocker', and almost forgets how to play the game, losing the 4th 11-0 and the fifth 11-4. It was sad to witness, he was last seen dribbling in the carpark talking to himself, and whether he ever plays again is debatable… L Kent, against the odds, beat Surrey 3-2. (15-12)
So, its all to play for, and with certain permutations theoretically all three Counties can now win… Well, in reality, they can't, as those who are good with figures will already have noticed unless we beat Kent and secure a points haul of 28, Surrey are almost certain to win the group! NB: For those of limited intellect, we can't now win, as the maximum points haul is 20, so we are playing for pride.
This match sees the arrival of yet more Stortford superstars, Fred Cook at #4 and Vince Lawrence making his debut at #5. The new boy set off like an old dray horse, rather cumbersome and possibly lame in the right leg, a bit tentative as if he has never ventured onto these home courts before, yet still managing to secure the opening game in a 19-17 marathon. Unfortunately, that really was as good as it got, as the initial exertions took their toll and his Kent opponent ran away with the next 3 games. 1 nil Kent.
However, over on court 1 we were witnessing a resurgence, whether it was the pint(s) of beer at lunch or the 'nothing to lose' attitude, Geoff was quite literally blowing his opponent off court. Though we did have to open the windows for a period in the second game. Wielding his racket like a wand, this northern magician was causing all sorts of problems, with his rabbit up the sleeve and pigeon under the T shirt trickery, the crowd were treated to a right old exhibition of squash I can tell thee… 3-0, and its 1 all.
Next up, the cheeky cock-er-ny, never one to take things too seriously, always playing with a light and relaxed manner, Fred Cooke. His opponent, Antonio Sloppyguisseppio, off the back of a hard fought 3-2 victory was not going down easily, and would take some licking if he was to be put back in his box, and the lid closed on him once and for all! 11-9, 9-11, 7-11, 11-7, 2-2, the match was a thing of beauty, back and forth, like two 15 stone Nureyev's they glided around the court, displaying a style of squash that is almost unwritedownable… Fred finally stuck in the the fork winning 11-7 in the fifth, 2-1 Herts.
Meanwhile, back on court 1 a totally different form of squash was on display, as Keith 'Running Man' Timms was teaching his slightly lighter opponent the subtle arts of 'retrieval'. Never keen to win 3-0, and more than happy to spend 2 or 3 hours on court, the Herts Harrier was slowly grinding out a victory, and, like the indomitable sands of time, there really was ever going to be one winner. That's actually a disservice as every 80 or 90 shots Keith does play a drop shot…. A clinical straight sets victory. 3-1 Herts.
Finally, Ali Coker enters the fray deciding to play on the slightly warmer court 2, and hoping to deliver the 'coup de gras'. NB/ This comment has been included for its literary impact rather than its physical accuracy, as clearly at this juncture it is impossible to lose!
Never the less, anyone who has watched Ali toil on court knows only too well that Victory and Loss are never too far apart, even when one seems a certainty! Taking the first 12-10 he then settled into some controlled and thoughtful squash before convincingly losing the second 11-6….. J A blot on the copybook as he won the next two easily, 12-10, 11-9 and gave Herts a 4-1 victory. (18-6)
So, ultimately not quite good enough, with Surrey topping the table on 32pts and Herts and Kent trailing on 23 and 21pts respectively. However, I cannot fault the desire and commitment of my team and as Captain, albeit non-playing, I must congratulate the squad in general for consistently punching well above its weight. A squad strong in depth and strengthened by the sum of its parts. "On, on, you noblest English"  See you all in October.
The timings, names and factual accuracy of this report may have been altered, embellished or refined to protect the integrity of my squad, and my lawyers have therefore assured me I cannot be held accountable for any libellous action that may be forthcoming.
Best Regards
Alastair Ambrose
ICC Mens O50 18th February 2017
A tough schedule confronted the Herts team on arrival at Beaconsfield with consecutive matches versus Bucks at 11am followed by multiple winners Surrey at 2pm. Bucks were dispatched seemingly convincingly 5-0, but 4th string Gehan Fernando and 5th string Steve Lloyd were both taken to 5 games.
With little time between matches, Steve went down 3/0 at 5 against the Surrey captain, Mike Stewart,  and Gehan lost a tight 3/1 at 4, putting Herts 2 down. While these matches were continuing, Gary Raw managed to close out a high quality 3/2 victory against Richard Middleton, maintaining his composure in an 11/8 fifth game. 
Eamonn Price then overcame his fellow England player Marc Aldridge in 4 closely fought games, which left Las Fernando to take the court for the deciding match. Playing fast, accurate and aggressive squash, Las sealed victory over Surrey by 3/2 with a 3/0 win over Nigel Stiles, and thereby secured a place at the Finals weekend in Pontefract.
Nom
Hertfordshire
Nom
Buckinghamshire
Result
Games
1-1
Eamonn Price
1-3
Mark Treadwell
3
0
12/10 11/4 11/6
1-2
Las Fernando
1-4
Stewart Hefferman
3
0
11/4 11/7 11/9
1-5
Gary Raw
1-5
Simon Miller
3
1
11/5 11/7 9/11 11/4
1-6
Gehan Fernando
1-8
Rory Fisher
3
2
11/9 8/11 9/11 11/8 11/3
1-8
Steve Lloyd
1-7
Nic Manley
3
2
11/6 11/9 10/12 9/11 11/7
View Full Details
Result:
20
5
Nom
Hertfordshire
Nom
Surrey
Result
Games
1-1
Eamonn Price
1-1
Marc Aldridge
3
1
9/11 11/8 11/9 11/9
1-2
Las Fernando
1-2
Nigel Stiles
3
0
11/6 11/7 11/8
1-5
Gary Raw
1-3
Richard Middleton
3
2
7/11 11/9 11/9 3/11 11/8
1-6
Gehan Fernando
1-4
Matthew Parker
1
3
9/11 8/11 11/8 4/11
1-8
Steve Lloyd
1-5
Mike Stewart
0
3
5/11 5/11 7/11
View Full Details
Result:
15
9
ICC Mens O50 Finals 4/5 March 2017
Herts Mens Over 50s Win National Title
The Herts squad made the journey up the M1 to the illustrious Pontefract Squash Club to compete once again for the National Title after a number of recent near misses.
Avon provided the semi final opposition and Herts went 3-0 up with convincing victories from Gary Raw, Steve Lloyd and Gehan Fernando. With a place in the final assured, Eamonn Price and Las Fernando completed a 5-0 victory with hard-fought 3/1 wins.
In the other semi final Surrey overcame Yorkshire 4-1, leaving Herts to play a Surrey side which had destroyed our hopes in a number of previous finals weekends. Despite Herts beating Surrey in the qualifying weekend, Surrey had made it through as best runner up rather frustratingly!
An overnight stay in a budget hotel awaited (even for Pontefract and including complimentary toenails on the floor) after a couple of drinks watching the Hayes/Bellew fight. 
Sunday's 1pm final was opened by Steve Lloyd at 5, who overcame Paul Ekins in 3 close games. Following an early morning drive up, Andy Eilfield had come in at 3. Despite a recent injury layoff, Andy just managed to hold on winning 11/9 in the fifth against Surrey Captain, Mike Stewart, although no one was quite sure how! Gary Raw then gave Herts an unassailable 3-0 match lead with a convincing 3/0 victory over multiple England International, Chris Harland. Eamonn Price then repeated his previous victory in qualifying over England teammate Marc Aldridge in 3 tough games and Las Fernando maintained his unbeaten record with a 3/1 victory over Cliff Martindale.
After a number of recent near misses for the squad, this win represented a great achievement to finally become National Over 50 Intercounty Champions. 
Congratulations to all of the squad, including Mike Richards and Martin White who played an invaluable role in earlier rounds and were important squad members.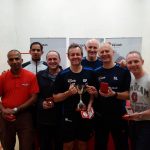 Ladies 1st Team Region 4 Stage 1 - 5th November 2016
The ladies team travelled to Chichester to play in the Stage 1 of the Inter County.  A new system has now been introduced with counties being grouped in Regions.
Without juniors Grace Gear, Amber Marshall and Nyah Williams, it was left to the regular members of the team to fight for Hertfordshire.
Our first match against Sussex was tough with both Isobel and Maureen losing their matches 3-0.  Next on was Brogan, coming back into the team after a break and keen to play well.   Brogan played well and beat a tough opponent 3-1.  Louisa went on against a very talented 17 year old and did not get a look in unfortunatley losing 3-0.  Last on court was Cathy, who played a great game against a tough opponent just running out of steam in the fourth game, losing 3-1.  A loss of 4-1 to Herts.
In the next game Hert were up against Surrey II a team made up of younger players.  Brogan and Maureen went on first both winning their matches comfortably 3-0.  Next on court was Isobel and Louisa who both had chances to win earlier but ended up winning 3-2.  Last on court Cathy who secured a 5-0 victory for Herts beating her opponent 3-0.
Nom
Hertfordshire
Nom
Sussex
Result
Games
1-1
Louisa Dalwood
1-1
Jasmine Hutton
0
3
0/11 2/11 2/11
1-2
Cathy Abernethy
1-2
Hannah Wright-Davies
1
3
6/11 11/9 7/11 6/11
1-3
Brogan Lane
1-3
Zoe Shardlow
3
1
11/7 11/8 2/11 11/3
1-4
Isobel Smith
1-4
Katie Hanley
0
3
9/11 8/11 8/11
1-5
Maureen Morrison
1-5
Kelly Eastment
0
3
8/11 4/11 6/11
Result:
4
18
Nom
Hertfordshire
Nom
Surrey 2
Result
Games
1-1
Louisa Dalwood
2-1
Isabelle Tweedle
3
2
11/8 9/11 11/3 7/11 11/7
1-2
Cathy Abernethy
2-2
Claire Wright
3
0
11/6 11/3 11/5
1-3
Brogan Lane
2-3
Natalia Page
3
0
11/6 11/3 11/2
1-4
Isobel Smith
2-4
Lilly Pinggera
3
2
9/11 11/6 7/11 11/6 11/9
1-5
Maureen Morrison
2-5
Helen Fowler
3
0
11/4 11/8 11/5
Result:
20
4
ICC RacketBall - Squash 57 November 2016
The Herts o40 Squash 57 team went undefeated in the inaugural round of the intercounty masters tournament 19/11/16 held at Broxbourne Sports Club.
Hertfordshire vs Kent
Alastair Ambrose (Stortford) got Herts off to a good start vs UK Racketball stalwart Mark Banfield (Kent).  Banfield (currently ranked #7 nationally in the o50's age group) won the first game but Ambrose re-grouped and took the next 3 games 11/9, 11/5, 13/11 putting Herts up 1-0.
In the second match of the day Adam Grilli (Broxbourne) pulled back from 0-7 down in the third game to beat Mark Steeden (Kent) 3 games to 1 putting the match out of reach for the visitors.
Geoff Taylor (Broxbourne) finished off the win for the home side with an emphatic 3-1 victory over Andy Murphy.
Result
#1 Geoff Taylor vs Andy Murphy 3-1. 11/9, 11/9, 8/11, 11/5
#2 Adam Grilli vs Mark Steeden 3-1. 11/8, 5/11, 12/10. 11/7
#3 Alastair Ambrose vs Mark Banfield 3-1. 9/11, 11/9, 11/5, 13/11
Hertfordshire vs Buckinghamshire
In the second match of the day, Geoff Taylor was drawn against current o45's national champion Simon Martin (Bucks).  The two full time coaches had an incredible battle but despite some unbelievable deception from Martin, the home side pro won by 3 games to 1.
A fresh legged Martin Berry (Broxbourne) was next up for Herts vs UK Racketball o50's #6, Lee Sadler (Bucks).  Berry made short work of the visitor finishing him off 3-0 (12/10. 11/5, 11/3).
Even though a dead rubber, the last match of the day saw the two county captains go up against one another.  Excellent placement and clinical finishing saw David Evans (Bucks) see off Adam Grilli (Broxbourne).  Despite a late charge in the fourth, Evans ended the day with a 3-1 win (11/5, 11/9, 6/11, 11/7).
Result
#1 Geoff Taylor vs Simon Martin 11/9 11/9 8/11 11/5
#2 Adam Grilli vs David Evans 5/11 9/11 11/6 7/11
#3 Martin Berry vs Lee Sadler 12/10 11/511/3
All of the weekends results are available on the County Masters Website – http://mastersicc.countyleagues.co.uk/