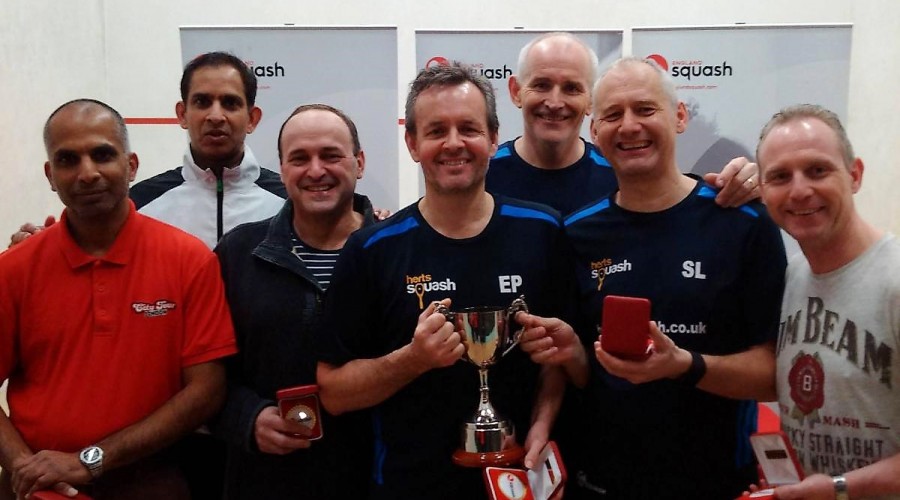 Herts Mens Over 50s Win National Title
 The Herts squad made the journey up the M1 to the illustrious Pontefract Squash Club to compete once again for the National Title after a number of recent near misses.
Avon provided the semi final opposition and Herts went 3-0 up with convincing victories from Gary Raw, Steve Lloyd and Gehan Fernando. With a place in the final assured, Eamonn Price and Las Fernando completed a 5-0 victory with hard-fought 3/1 wins.
In the other semi final Surrey overcame Yorkshire 4-1, leaving Herts to play a Surrey side which had destroyed our hopes in a number of previous finals weekends. Despite Herts beating Surrey in the qualifying weekend, Surrey had made it through as best runner up rather frustratingly!
An overnight stay in a budget hotel awaited (even for Pontefract and including complimentary toenails on the floor) after a couple of drinks watching the Haye/Bellew fight. 
Sunday's 1pm final was opened by Steve Lloyd at 5, who overcame Paul Ekins in 3 close games. Following an early morning drive up, Andy Eilfield had come in at 3. Despite a recent injury layoff, Andy just managed to hold on winning 11/9 in the fifth against Surrey Captain, Mike Stewart, although no one was quite sure how! Gary Raw then gave Herts an unassailable 3-0 match lead with a convincing 3/0 victory over multiple England International, Chris Harland. Eamonn Price then repeated his previous victory in qualifying over England teammate Marc Aldridge in 3 tough games and Las Fernando maintained his unbeaten record with a 3/1 victory over Cliff Martindale.
After a number of recent near misses for the squad, this win represented a great achievement to finally become Natonal Over 50 Intercounty Champions. 
Congratulations to all of the squad, including Mike Richards and Martin White who played an invaluable role in earlier rounds and were important squad members.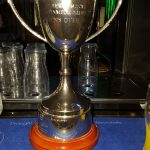 Home team Herts v Avon
FINAL Surrey v Herts