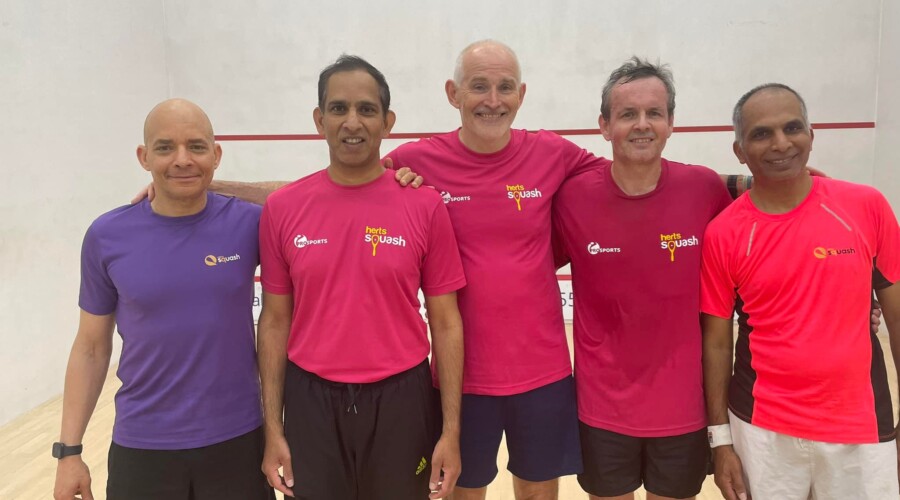 The Masters Inter County Finals were held at Hallamshire Squash Club, Sheffield this weekend.
Herts had three teams competing in Men's O55, Ladies O40 and Ladies O50.
Congratulations to the Men's O55, who played and won three cracking matches to come out as National Champions!   The team were Eamonn Price, Marvin Rust, Las Fernando, Gary Raw,  Teejay Sogunro and Gehan Fernando.   They beat Durham & Cleveland, 3-2, in the quarterfinal, beat Middlesex 4-1 in the semis, and then beat Surrey in the final 4-1.  Great performances from everyone to ensure their place as Champions.
The Ladies O40 team of Louisa Dalwood, Jo Preston and Rachel Kirkby, again played well.  They won their first match against Warwickshire 2-1.  They they had to play a very strong Kent team next, unfortunately losing 3-0.   In their final match against Essex, two strong performances from Louisa and Jo ensured that the team came second overall, winning their match 2-1.
The Ladies O50 of Jillian Lilico, Isobel Smith and Laura Taylor were up against Berkshire first.    Laura got the team off to a great start winning a close game 3-2.   Jillian, carrying a knee injury lost 3-1.  Isobel although up 2-0 was unable to clinch the victory losing 3-2.  The team lost to Kent in 2nd/3rd playoff by 2-1, so the team coming third overall.
A very enjoyable weekend, supporting friends and team members and great to be back on court competing with other Herts players after such a difficult couple of years.    This proves that squash is still strong in Hertfordshire and we are looking forward to many more competitions.