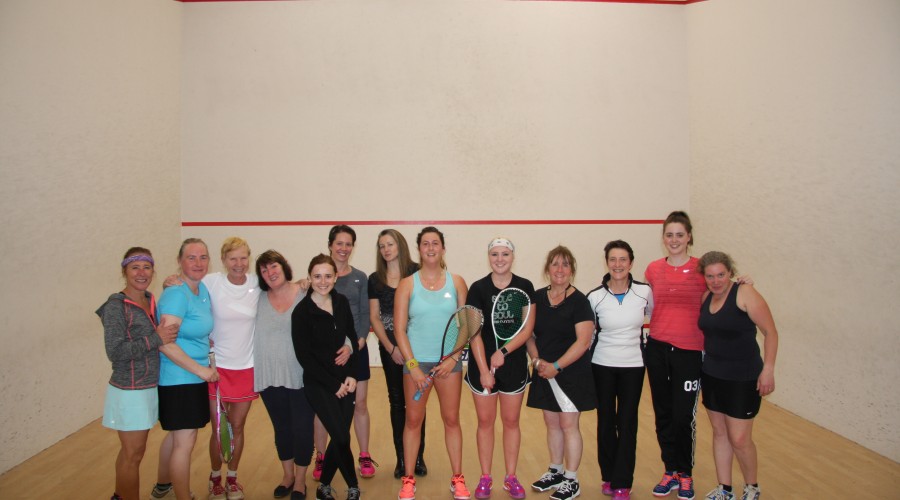 Following last year's successful event, it went ahead again this year slightly earlier on 20th May. The idea to get as many of the ladies in Hertfordshire together at an event to enjoy playing some squash and to catch up with friends, old and new.
With support again from the HSRA this event went ahead yesterday at Nuffield St Albans, thank you to Nuffield for allowing us to hold the event there.  Again, it was a very enjoyable, sociable, fun day of squash. Thanks also to England Squash for donating some goodies and to Just Rackets for also supporting the event by providing a box of balls.   The numbers were slightly down from last year, with May obviously being a very busy time for lots of people, however we still had nearly 30 ladies attending the event throughout the day, which was a great turnout.  Prize for furthest distance travelled goes to Mette Brink who flew in from Denmark to be at the event.  Great to see her!
The day started at 2p.m.  All ladies playing squash were grouped in boxes of four and played round robin matches to ascertain the winner and runner up of each box.   These winners went forward into a straight knockout competition and the rest of the players continued to play in the plate competition.   There was a wide range of ladies playing, all the regular team players from the Herts Leagues, some who only play occasionally now and also some county players.  We were also joined by Lea Moineau, sister of Arthur Moineau who is a professional at Nuffield who happened to be visiting for the weekend.
The plate final was between Nicky Seabrook and Elke Rubsam!   A close game with Elke just managing to out-drop Nicky in the final game winning 2-1 ,  7/11 11/3 11/7.    In the main final Cathy Abernethy played Lea Moineau.   It was a cracking final, a hard hitting game with some tough punishing rallies.  Lea won the first game 15/13 and Cathy had game ball in the second but just couldn't get that point and Lea managed to win the game 18/16 and the match 2-0.
The players were then treated to a buffet in the lounge, where we were joined by even more ladies who had come along just for the social element of the day, great to see Sue Collins, Di Ritson and Alison Allard.
I presented the winners with their prizes and then moved on to the presentation for the Winter league 2016/17.
The winners were Activeless Ladies, Myself, Mhairi Gritz, Elke Rubsam, Nicky Seabrook and Fiona McClure.  Congratulations to them.
The Jan Ingham Trophy for Best individual player for 2016/17 went to Louisa Dalwood from Nuffield St Albans.
It was then back to eating, drinking and talking for the rest of the evening.  A loud buzz filled the room with which was lovely.
I fully intend to keep this event going and look forward to running it again next year when, hopefully, we can make it an even bigger and better event.
Thanks to everyone who supported this event and made it so successful and enjoyable!
Report by Isobel Smith
Click on first photo to get slide show 🙂