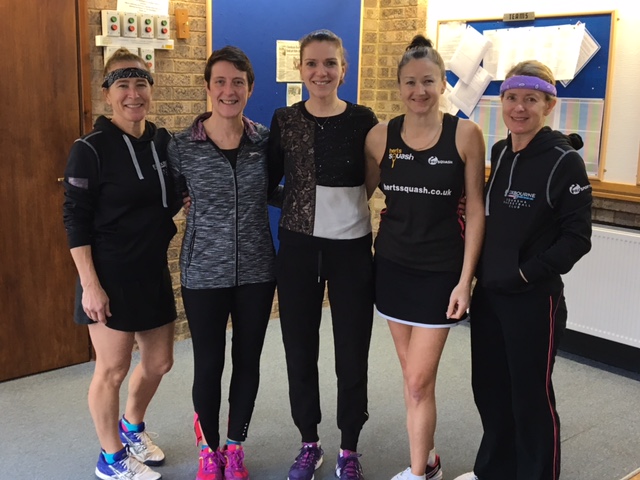 The ladies O40 team of Louisa Dalwood, Maureen Morrison, Isobel Smith, Sheila Blake and Laura Taylor travelled to Bucks for their Stage II matches.   They travelled to Chesham Bois Squash Club and their first match against Bucks started at 9.30 a.m. due to other events happening at the club.  Bit of a shock to the system playing so early!!
Anyway first on court were Louisa at No.1 and Laura at No.5.     Laura played well and won her match 3-0.  Louisa had a tough game against Sam Mueller, which see-sawed up and down with Louisa finally coming out the winner in the fifth, great game.   Sheila then went on to win 3-0 as did Maureen and Isobel both winning 3-0.  So a 5-0 win to Herts.
Following a short break with some very nice homemade food provided by Mary at the Club it was the tough match against Surrey, who had beaten Herts 5-0 in Stage 1, could Herts turn things around??
Isobel and Laura went on first, Laura managed to get a game but lost 3-1 in a close match. Isobel couldn't get past the accuracy of her player losing 3-0.   Next on court was Sheila and Louisa.   Sheila up against another tough opponent could not get into the game and lost 3-0.  Louisa was up against tough opponent who beat her 3-1 in Stage I.  Another gripping game to watch, with Louisa in touching distance of winning but unfortunately could not quite get those last few points losing 11-8 in the fifth.  Maureen was last on and also lost 3-0.  Unfortunately a 5-0 loss to Herts.
There was a slight hope that we might get to the play-offs as best runners up, but the results are in and unfortunately we did not qualify.
Still a great performance, we have a strong squad of ladies and hopefully next year when England Squash have sorted out the new system we will stand more of a chance of qualifying.
Full results below:
Buckinghamshire
Hertfordshire
Result
Games
Sam Mueller
Louisa Dalwood
2
3
11/9 9/11 11/3 5/11 7/11
Fleur Drumer
Maureen Morrison
0
3
5/11 3/11 10/12
Chris Sear
Isobel Smith
0
3
7/11 5/11 9/11
Juliet O'Toole
Sheila Blake
2
3
7/11 8/11 13/11 14/12 2/11
Lily Drake
Laura Taylor
0
3
4/11 9/11 3/11
Hertfordshire
Surrey 1
Result
Games
Louisa Dalwood
Shayne Baillie
2
3
8/11 11/3 7/11 11/7 8/11
Maureen Morrison
Isabelle Tweedle
0
3
6/11 6/11 3/11
Isobel Smith
Vicky Strange
0
3
7/11 8/11 5/11
Sheila Blake
Sarah Davis
0
3
0/11 2/11 4/11
Laura Taylor
Helen Dredge
1
3
11/8 7/11 6/11 8/11
Buckinghamshire
Surrey 1
Result
Games
Sam Mueller
Shayne Baillie
0
3
3/11 1/11 8/11
Gill Worgan
Isabelle Tweedle
0
3
4/11 1/11 5/11
Fleur Drumer
Vicky Strange
0
3
5/11 9/11 6/11
Juliet O'Toole
Helen Dredge
1
3
4/11 5/11 11/7 5/11
Chris Sear
Sarah Davis
0
3
2/11 1/11 3/11
| | | | | | | | | | | |
| --- | --- | --- | --- | --- | --- | --- | --- | --- | --- | --- |
|   | Group X |   | P | W | L | D | F | A | Pen | Total |
| 1 | Surrey 1 | | 2 | 2 | 0 | 0 | 40 | 4 | 0 | 40 |
| 2 | Hertfordshire | | 2 | 1 | 1 | 0 | 23 | 24 | 0 | 23 |
| 3 | Buckinghamshire | HOST | 2 | 0 | 2 | 0 | 5 | 40 | 0 | 5 |