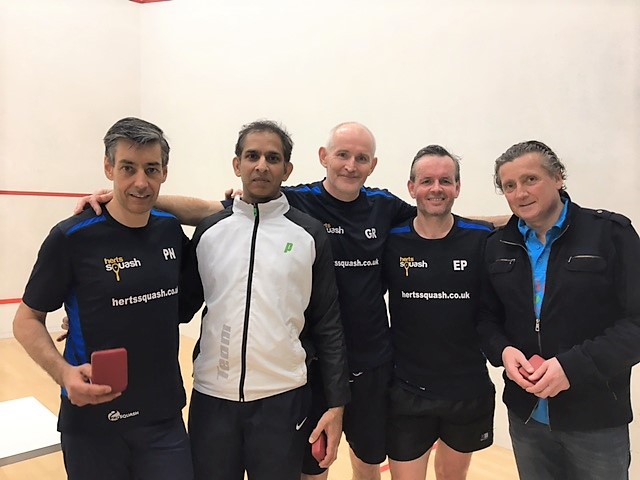 HERTS. MENS O45s TEAM ARE NATIONAL INTER COUNTY RUNNERS UP
| | |
| --- | --- |
| Competition: | INTER COUNTY NATIONAL FINALS – MENS O45s |
| Date: | 1pm;  25th March 2017 |
| Teams: | Cambridgeshire, Durham & Cleveland, Gloucestershire & Hertfordshire |
HERTFORDSHIRE MENS O45s TEAM NATIONAL RUNNERS-UP….and they couldn't have possibly got any closer to winning it!  3 weekends of great County squash culminating in a Finals weekend at the famous Pontefract Squash Club with the Nation's four strongest counties competing for the title. This competition has been the nemesis in recent years to this strong generation of players and this time they came agonisingly close to being champions and it just wasn't to be…
The first two stages saw Herts. comfortably see off all South East and Central rivals (Surrey, Middlesex, Bucks., Beds., Kent, Essex) to go through as one of four Region winners to the Finals weekend.  Drawn against a very strong Cambridgeshire side in the Semi-Finals, the Herts. team knew they had to beat the two strongest county sides to win. Cambridgeshire had former pro player Danny Meddings and International Masters player Nick Brown at the top of the order so Herts strength in depth needed to count.  Las Fernando and Peter Newman went on first and both continued their 100% winning record in this year's competition to put Herts. 2 strings up.  However, Eamonn Price the third of the trio of unbeaten players in the previous stages then went down in a hard-fought match 3-1 to Danny Meddings and Fred Cooke lost to a very competent Nick Brown to level proceedings.  Form suggested Gary Raw should win the decider for Herts. but it seemed like Gary was having one of those days where nothing was going right.  The first game was lost quickly; he then managed to squeeze the second game, but lost the third game 11-4.  Fortunately, from the fourth game onwards Gary found his touch and rhythm and took the next two games 11-3 to seal the tie and match for Herts.
SEMI-FINALS:
HERTFORDSHIRE beat CAMBRIDGESHIRE by 3 strings to 2
Durham & Cleveland beat Gloucestershire by 5 strings to 0
And so Herts. Mens O45 were through to the Final of the Finals Group….   Now there are 3-2 match results, close 3-2 match results and then there is this match.  Two of our strings were lost 11-9 in the fifth game, 11 of all 22 games went down to a margin of 2 points.  And if only the outcome were to be determined by points…Herts would have edged it by taking 51% of the gruelling 420 plus rallies in a match that lasted 3 and a half hours! Herts. got off to a good start with Peter Newman winning 3-1 in the first match against Durham & Cleveland's Darren Nalton.  Then Las Fernando and Gary Raw went on and both matches were very tight and both went to 5 games.  However, whilst Gary dominated and won the deciding game clearly 11-6, Las was extremely unlucky to just be edged out 11-9 in the fifth!  The opposition's last two were extremely strong and Herts.' Fred Cooke put up considerable resistance against 2014 British National Champion Andy Cross, but did not have enough to cause an upset.  And so the match and National O45 County Team Title all came down to Herts.' Eamonn Price (British Closed Winner O45 in 2010, 2011 and O50 in 2014) against Yawar Abbas (2013 & 2015 British National O45 Champion).  Ironically, they had never played before.  Yawar perhaps had the better recent form and plays in a younger age group, but Eamonn has been steadily improving following injury setbacks and cannot ever be ruled out.  It was of course another five setter, but this time every one of the five gruelling games was decided with just a two point margin, every rally was squash of the highest quality and every point was gruelling and edge of the seat stuff.  Both players were pushing through personal barriers in an exhilarating and exhausting 90 minute match for their Counties and Team mates.  At 9-9 in the 5th it truly could have gone either way, a decision could have gone a different way, but ultimately the luck, game, tie and match was not for Herts.  A supreme effort by all however, and National Runners-up medals is something to be very proud of and more than deserved!
FINAL: HERTFORDSHIRE lose to DURHAM & CLEVELAND by 3 strings to 2 
Thanks to all the players who represented the County so valiantly this weekend and the three players (Andy Eilfield, Marvin Rust and Tim Bloomer) who played in the earlier stages but had to withdraw from the Finals squad because of holidays and illness.  We took just the 5 remaining players to the Finals and there were no "extra participants" to share the physical effort.   We did have a "Kit Man" but he turned out to be more adept at hiding than providing the kit!  We were also fortunate enough to have the Herts Ladies O50 Team who came Third playing at the venue in their National Finals competition.  Both Herts. teams watched, supported and helped each other with great camaraderie.  A joint meal was also organised for the Saturday evening and all were great company; Las divulged many culturally diverse stories to entertain and Eamonn provided food for thought by explaining to all an intellectual dilemma.  Many laughs were had and just a few drinks too.  Well done to all and Herts Squash for their support!
Peter Newman Herts. O45 Captain