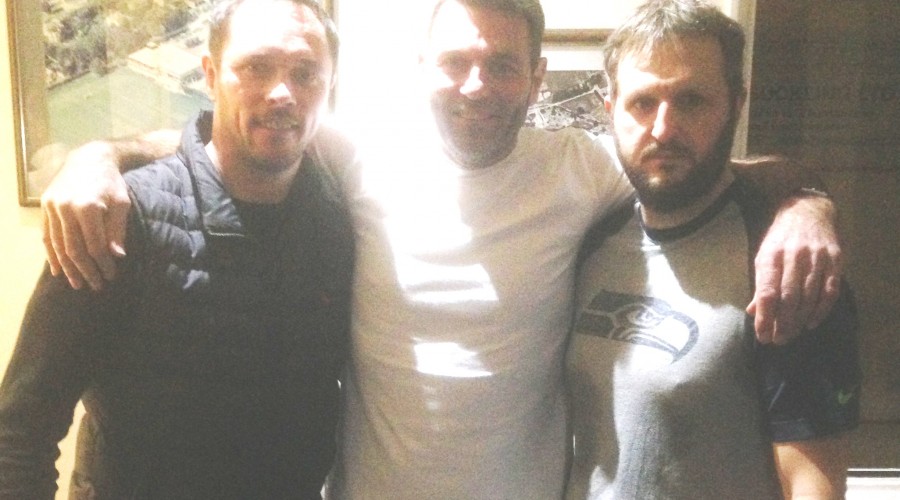 The Herts o40 Squash 57 team went undefeated in the inaugural round of the intercounty masters tournament 19/11/16 held at Broxbourne Sports Club.
Hertfordshire vs Kent
Alastair Ambrose (Stortford) got Herts off to a good start vs UK Racketball stalwart Mark Banfield (Kent).  Banfield (currently ranked #7 nationally in the o50's age group) won the first game but Ambrose re-grouped and took the next 3 games 11/9, 11/5, 13/11 putting Herts up 1-0.
In the second match of the day Adam Grilli (Broxbourne) pulled back from 0-7 down in the third game to beat Mark Steeden (Kent) 3 games to 1 putting the match out of reach for the visitors.
Geoff Taylor (Broxbourne) finished off the win for the home side with an emphatic 3-1 victory over Andy Murphy.
Result
#1 Geoff Taylor vs Andy Murphy 3-1. 11/9, 11/9, 8/11, 11/5
#2 Adam Grilli vs Mark Steeden 3-1. 11/8, 5/11, 12/10. 11/7
#3 Alastair Ambrose vs Mark Banfield 3-1. 9/11, 11/9, 11/5, 13/11
Hertfordshire vs Buckinghamshire
In the second match of the day, Geoff Taylor was drawn against current o45's national champion Simon Martin (Bucks).  The two full time coaches had an incredible battle but despite some unbelievable deception from Martin, the home side pro won by 3 games to 1.
A fresh legged Martin Berry (Broxbourne) was next up for Herts vs UK Racketball o50's #6, Lee Sadler (Bucks).  Berry made short work of the visitor finishing him off 3-0 (12/10. 11/5, 11/3).
Even though a dead rubber, the last match of the day saw the two county captains go up against one another.  Excellent placement and clinical finishing saw David Evans (Bucks) see off Adam Grilli (Broxbourne).  Despite a late charge in the fourth, Evans ended the day with a 3-1 win (11/5, 11/9, 6/11, 11/7). 
Result
#1 Geoff Taylor vs Simon Martin 11/9 11/9 8/11 11/5
#2 Adam Grilli vs David Evans 5/11 9/11 11/6 7/11
#3 Martin Berry vs Lee Sadler 12/10 11/511/3
All of the weekends results are available on the County Masters Website – http://mastersicc.countyleagues.co.uk/