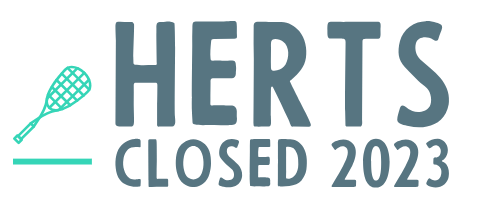 The Herts Closed 2023 was held at Radlett Lawn Tennis & Squash Club.   Many thanks to them for agreeing to host the tournament again and for letting us take over their club for a weekend.  We really do appreciate their support with this event.
Unfortunately the worrying trend of falling number of entries continues compounded by injuries etc.   This did not stop those who entered having a great time and playing some very entertaining squash.  Thanks to everyone who entered the event and made it such a great weekend of squash.
Isobel was supported over the weekend by Lesley Garner who, with her expert knowledge of running the Herts Closed for many years in the past, helped the weekend go smoothly.
We also welcomed being able to use a new marking system designed by Clive Baker from Nuffield St Albans.   Players were able to use tablets to mark the matches, with scores being stored automatically on the system making it far easier to run the tournament.   This is the future!
The tournament was very generously sponsored by John Apthorp and our thanks go to him for his support.
Racketball was included again, with an unfortunate clash with the British Racketball Championships again , however we still had more entries than last year.
All categories were still very competitive and lead to some great finals.   The results are below:
Mens A
Nick Mulvey bt  Nick Rossiter 3-0    11/8 11/4 11/7
Mens B
Mark Godfrey-Evans bt Bilal Ahmed  3-2  8/11 8/11 11/6 11/6 11/6
Mens C
Nick Cooper bt Keith Winfield 3-1  11/5 11/4  8/11  11/7
Mens O35
Vig Gunasegaran bt Gary Nisbet 3-0    11/8 11/9 11/0 (conceded)
Mens O45
Ryan Fitzsimon bt Andy Duckworth 3-2 11/13  5/11  11/7  11/4  13/11
Mens O55
Teejay Sogunro bt Tony Stewart  3-0  11/4 11/5 11/4
Mens O65
Julian Craxton bt Keith Ragg  3-0   11/4 11/9 11/5
Ladies
Mhairi Gritz bt Jillian Lilico 3 -2     9/11 11/5 11/5  8/11  11/5
Ladies O40
Jillian Lilico bt Katie Winterstein 3-0  11/6  11/5   11/4
Racketball
Adam Grilli bt Mark Godfrey-Evans 3-1  11/8 11/4 13/15 11/6
Mens Plate
Jonathan Perolls bt Raju Shah 3-0  11/7 15/13 11/3