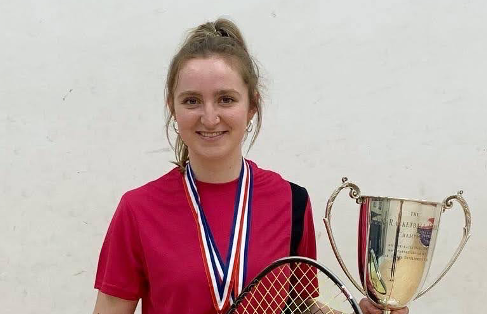 Broxbourne Squash Club and the Squash & Racketball section have acknowledged their very own Amber Marshall, age 23 from Broxbourne, on her achievements and career wins and how her journey through the game of squash and racketball has earned her the recognition in front many of the games elite.
Amber has had a very successful last couple of years on the squash and racketball circuit.
In July 2022, Amber retained her 2021 title of Ladies National Racketball Champion after fending off Edgbaston Priory's local coach and a few upcoming racketball stars.
In January 2023, Amber decided she wanted to delve back into playing squash for one major tournament, the Jesters Squash Amateur Championship. Amber began playing squash when she was 6 years old but after many busy weekends at junior tournaments, she gave up competitive squash in 2017. Amber trained hard for weeks with boyfriend Luke, and in the semi-final of the prestigious tournament, she managed a tough win over top seed and previous year's winner Kim Hay. Amber then progressed on to win the final 3-0 and gain the title of Jesters Ladies National Amateur Squash Champion 2023.
In July 2023, Amber was of course back playing racketball. She managed to retain her title of Ladies National Racketball Champion once again, making her a 3-time Ladies National Racketball Champion.
In October 2023, Amber entered the UK Racketball British Open which she had come runner up in 2022. She was seeded 1 but faced stiff opposition from the likes of Nationals Runner Up Elspeth Edwards, local top players and PSA Squash Pros Charlotte Jagger & Fiona Moverly. In the end Moverly, Marshall and Edwards made it through to the Final box of 3. The final saw Amber and Elspeth re-enact their National Championship final with Marshall playing some quality stuff to see herself through to a 3/0 win, becoming the first woman to hold National and British Open titles in the same year!
Throughout the last couple of years, Amber has managed to win every major title on the racketball circuit. The recent British Open win takes her UK racketball title count to 20 – at the age of 23 there is plenty of time to add to that tally. For all of her achievements even since she was a junior, her home club Broxbourne Sports Club in 2023 proudly named their exhibition court after her.