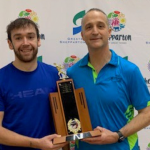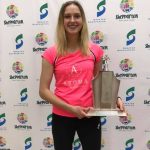 Congratulations to Grace & Angus for their PSA wins.
After five days of competition at the Shepparton Squash Centre, Herts players Gear and Gillams emerged victorious in the respective PSA Women's and Men's finals that took place on Sunday afternoon (AEST).
Contested first was the Women's final, featuring the number one and two seeds in Australia's Sarah Cardwell and Great Britain's Grace Gear.
Both competitors had been dominant for the entire tournament and hadn't dropped a single game on their way to the final.
The match began in predictable fashion with both players going toe-to-toe in a bid to earn the all-important opening game. Gear ultimately landed the early blow to take out the first game, 11-9.
The top seed in Cardwell showed every bit of her poise around the court, in an attempt to reclaim control of the match. But Gear held her nerve and snatched the second game, 11-8.
With Cardwell trying everything to force a fightback, Gear proved too strong and won the championship title in three close games, 11-13, 8-11, 11-13.
In the rematch of last weekend's South Australian Open final, the Men's final followed the Women's decider and featured second-seeded Angus Gillams and Egypt's Moustafa El Sirty.
A sluggish start from El Sirty saw Gillams dominate the opening game, 11-2.
Realising the need to slow down the frantic tempo of the match, El Sirty started to find his groove and had his opponent moving around the court.
The Egyptian was able to capitalise over the Scot and even up the match at 1-1.
However El Sirty couldn't maintain the pressure he built in the second game, as Gillams showed his class to win the next two games 11-8 and 11-4 and take home the championship trophy – 2-11, 11-7, 8-11, 4-11.
For Gillams, it's his second PSA championship crown in seven days, as El Sirty fell short against the Scot for the second consecutive week.